The American Academy of Optometry (AAO) believes that contact lenses can still be safely worn during this pandemic as long as people follow the Centers for Disease Control and Prevention's (CDC) guidance on handwashing as well as following their doctor's strict contact lens hygiene protocols.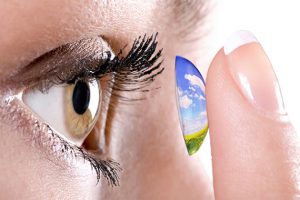 The research literature is clear on how to prevent contact lens infections of all kinds, such as bacteria, viral and fungal diseases. The American Academy of Optometry has the following recommendations for contact lens wearers.
Contact lens wearers must:
Wash hands thoroughly, at least 20 seconds with soap and water, and dry hands completely with a CLEAN cloth or paper towel.
Use daily disposable contact lenses, if possible.
If solutions are required, use them appropriately. Specifically, do not top-up or re-use solutions.
Replace cases monthly or more frequently. Rinse wipe and air-dry contact lens cases every day.
Do not wear contact lenses when you are ill.
Do not sleep in your contact lenses, unless it is medically necessary.
---